Report
Global snapshot
Global snapshot
Read more
We are Grant Thornton
Grant Thornton is a leading business adviser that helps dynamic organisations to unlock their potential for growth. Our brand is respected globally, as one of the major global accounting organisations recognised by capital markets, regulators and international standards setting bodies.
Over the last three years we are the fastest growing large accounting organisation and we are constantly evolving and developing alongside our clients'
Our model
GNC Group's model is not to simply "advise and leave", but to stay and deliver actual outcomes. At GNC Group, we partner with our clients and embed ourselves into the existing teams and often provide the additional capability required to increase certainty of outcomes.
Grant Thornton Cambodia
Grant Thornton Cambodia, is an independent member within Grant Thornton International and a wholly foreign-owned company. Grant Thornton's presence in Cambodia first started in 2004. A recent reorganisation incorporated the expertise of Grant Thornton Malaysia to expand the service lines to meet the increasing demand for quality audit and advisory services of local business and international investors in Cambodia. The firm maintains a full service office in Phnom Penh and offers a broad range of services including audit, tax and advisory. Our mission is "To be the leading service provider in the Greater Mekong region, providing distinctive client service and bold leadership through empowered people". Whether we are acting as independent auditors, advising on funding a business, looking into tax issues, or restructuring a business, meeting our Clients' objectives and their expectations, through practical solutions based on our practice values of integrity, reliability and personal attention, is our aim.
Awards
Grant Thornton is an award-winning globally recognised professional services network. Here are some of our awards.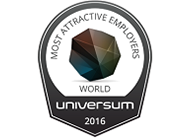 The World's Top 50 Most Attractive Employers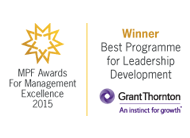 Best Programme for Leadership Development in 2015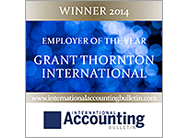 IAB Employer of the year 2014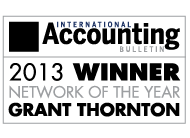 Global network of the year 2013