Report
Global snapshot
Global snapshot
Read more
Grant Thornton Cambodia
Grant Thornton Cambodia, is an independent member within Grant Thornton International and a wholly foreign-owned company. Grant Thornton's presence in Cambodia first started in 2004. A recent reorganisation incorporated the expertise of Grant Thornton Malaysia to expand the service lines to meet the increasing demand for quality audit and advisory services of local business and international investors in Cambodia. The firm maintains a full service office in Phnom Penh and offers a broad range of services including audit, tax and advisory. Our mission is "To be the leading service provider in the Greater Mekong region, providing distinctive client service and bold leadership through empowered people". Whether we are acting as independent auditors, advising on funding a business, looking into tax issues, or restructuring a business, meeting our Clients' objectives and their expectations, through practical solutions based on our practice values of integrity, reliability and personal attention, is our aim.
Our model
GNC Group's model is not to simply "advise and leave", but to stay and deliver actual outcomes. At GNC Group, we partner with our clients and embed ourselves into the existing teams and often provide the additional capability required to increase certainty of outcomes.
We are Grant Thornton.
We go beyond business as usual, so you can too.
We invest in listening, building relationships, and understanding your concerns to deliver an experience that's more personal, agile and proactive.
We work at the pace that matters. Yours.
That's why we celebrate fresh thinking and diverse perspectives to find better solutions.
We don't predict the future. We help you shape it.


We embrace what makes each market unique.
On a global scale.
We are a global network with 58,000 passionate people in member firms in 130 countries, with one common goal — to help you realise your ambitions. Which is why we combine global scale and capability with local insights and understanding. So, whether you're growing in one market or many, looking to operate more effectively, managing risk and regulation, or realising stakeholder value, our member firms have the assurance, tax and advisory capabilities you need with the quality you expect.
Awards
Grant Thornton is an award-winning globally recognised professional services network. Here are some of our awards.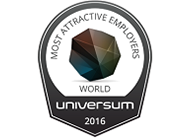 The World's Top 50 Most Attractive Employers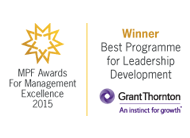 Best Programme for Leadership Development in 2015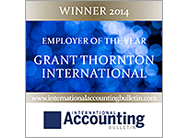 IAB Employer of the year 2014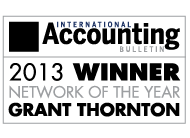 Global network of the year 2013