KUALA LUMPUR, 11 March 2021 - The global outbreak of COVID-19 has affected the property industry, recording a downturn trend with low foreign investments and pending projects. The growth of the industry is slower due to the unprecedented demand shock from the outbreak of COVID-19 and market uncertainties, impacted by the restriction of movement by Governments across the ASEAN region.
Lower demand on luxury or high-end properties, fewer residential project launches and lower level of transactional activity were observed in the beginning of COVID-19 mainly due to travelling restrictions and stringent bank loan approval as banks are cautious and strict in choosing clients to minimize risk of being defaulted. However, more transactions were reported during the recovery stage with the help of the Government such as introducing numerous economy recovery plans.
Ronald Almera, CEO & Partner of Grant Thornton Cambodia commented:
"Developers should consider repositioning their products, readjusting their prices to suit the current market, develop creative marketing strategies such as offering virtual house viewing in order to stay competitive during this challenging time."
On the flipside, affordable houses are taking the market lead during this time as more buyers see the downturn as an opportunity to own a house with the introduction of lower interest rate, stamp duty exemption and lower price in property. Besides, COVID-19 might have changed the buyers' preference from owning a condo or house in the city centre to a house with more spacious layouts but decentralised location to accommodate the new norm - work from home.
"We anticipate a surge in transactions when the COVID-19 situation is more stable, as we foresee a lot of first-time homebuyers and investors will be taking this opportunity to own a house for their own stay or for renting or investment purposes," Ronald Almera continued.
With the focus of helping the property industry, Grant Thornton ASEAN launches the ASEAN Property Industry Services. "We offer seamless cross-border services to all the medium to large enterprises looking for opportunities in property industry across the ASEAN region," Ronald Almera added.
The growing demand for help in the property industry is the driving force behind the Grant Thornton member firms from the Big 7 ASEAN countries – Malaysia, Indonesia, Philippines, Singapore, Thailand, Vietnam and Cambodia– coming together as Grant Thornton ASEAN. Grant Thornton ASEAN can provide medium to large enterprises valuable business insights and strategic perspectives, evaluate business challenges and support their needs in local or regional growth, risk management or cost management.
Webinar on the ASEAN Property Market
In line with the above, Grant Thornton ASEAN is organising a webinar on Wednesday, 24th March to give insights on the market landscape and opportunities for the Property Industry in ASEAN. This webinar will be organised by Grant Thornton Malaysia together with GT Philippines and GT Singapore. The webinar is also jointly with Knight Frank ASEAN, a leading Property Advisory company.
Link to webinar registration: http://bit.ly/Webinar_ASEANProperty_PR
WEBINAR ON THE ASEAN PROPERTY MARKET
Date: 24 March 2021
Time: 3pm (Malaysia & Singapore time)
Moderator: Narendra Jasani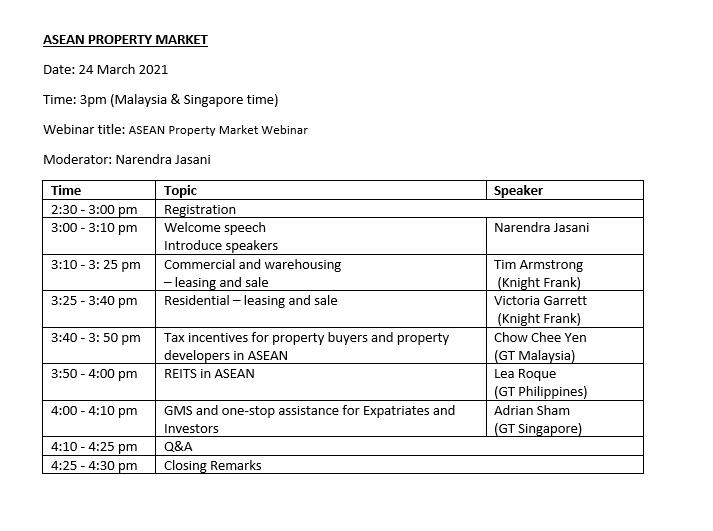 Further enquiries, please contact:
Name: Ronald C. Almera
Position: CEO & Partner
Grant Thornton (Cambodia) Limited
T: +855 23 966 520